World Car Free Day
6 months ago Mon 16th Sep 2019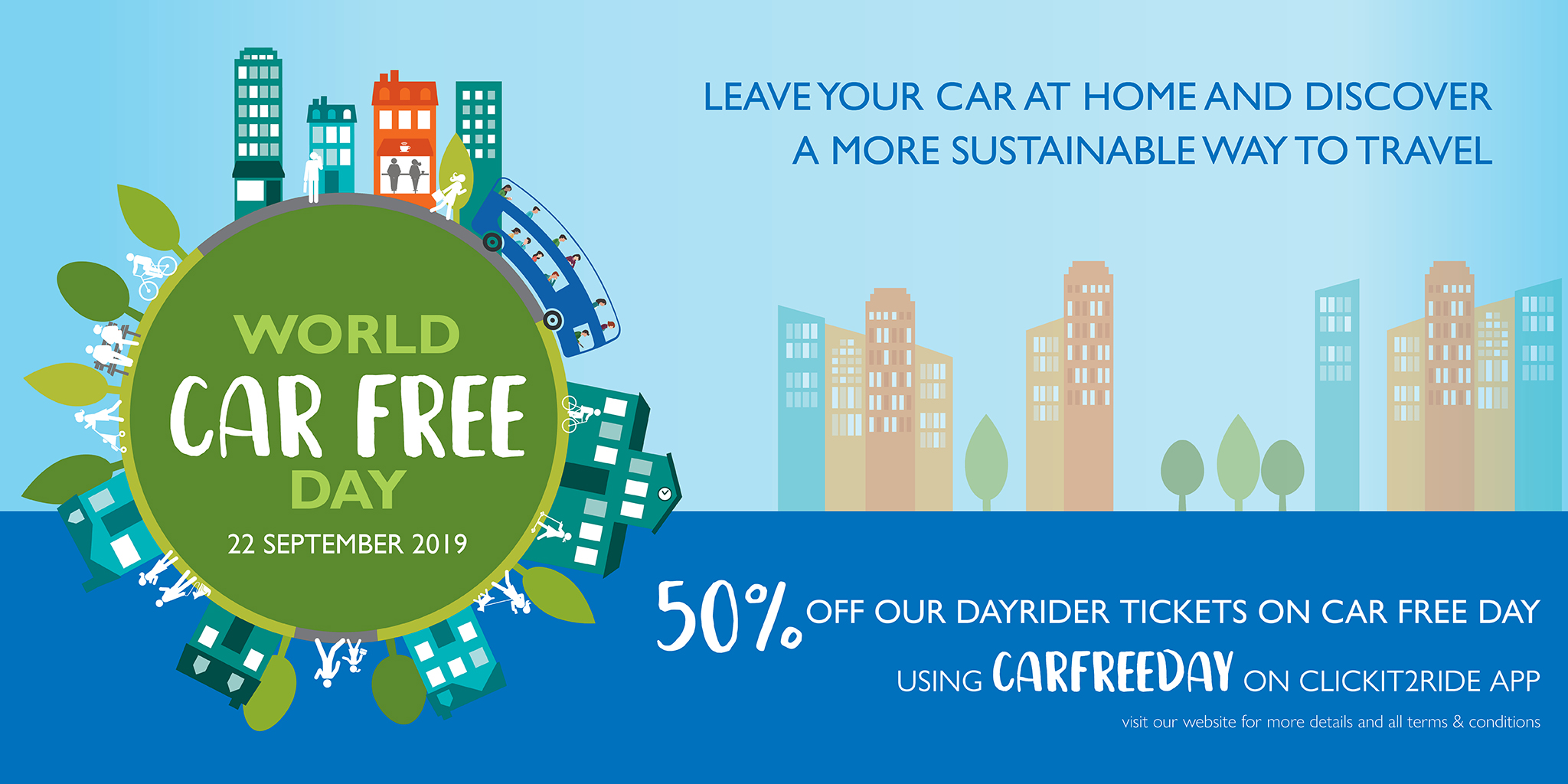 We're celebrating World Car Free Day on Sunday 22nd September by offering 50% off our dayrider tickets when bought using the clickit2ride mobile app on the day, with an aim to reduce the number of cars on the road taking you from A to B by bus.
Celebrated on 22nd September, World Car Free Day is a global event encouraging the population to give up their cars for a day and explore more sustainable ways to travel.
While some major cities will be closing roads and car parks for the day to further encourage walking or cycling to work, we understand a walk from the Airport to NOCS may not be practical…
So, try the bus - and if you like it, we hope you'll consider swapping your car for the bus just a couple of days a month to make a difference to your carbon footprint.
Did you know just one double decker bus can take up to 75 cars off the road? A reduced number of cars on the road and more bottoms on bus seats means less congestion, fewer emissions and less fuel consumption making it a cleaner, greener way to travel.
Boasting one of the newest bus fleets in the South of the UK, the majority of our vehicles now use the more environmentally friendly Euro VI engine which emits less NOx emissions than a standard diesel car when comparing the number of people travelling at one time.
In addition to the environmental impacts, fewer cars on the road reduces demand for unsightly grey car parks on every corner, making way for new community spaces, parks and gardens. Swapping your car for bus also saves money annually on fuel, car tax, insurance and ever increasing parking charges.
Leaving your car on the drive can also have an impact on your mental state. Swapping to a more holistic means of travel like walking, cycling or riding the bus can help to free up your headspace and give you the time you need to start your day or unwind – whether that's listening to music, getting ahead on your emails or simply taking time to admire the view.
Download our mobile ticketing app – Clickit2Ride – now and create your new online ticketing account. Select Unilink from the list of bus operators, and tap 'Browse Tickets.'
*To get 50% off a dayrider ticket on World Car Free Day, simply use code CARFREEDAY at the checkout. This code is valid for Southampton, Southampton Plus, Bluestar/Unilink Network and Explorer zone day tickets bought on 22nd September 2019 only. The ticket will be valid until the end of service on the day it is activated.
The clickit2ride mobile app is free to download and is available on iOS and Android devices, offering online tickets and journey planning to help streamline your bus journey.
Full Ts&Cs
· One (1) use per customer account on the clickit2Ride mobile app
· Discount is only available on the app, not by any other means – cash, contactless, theKey or in our travel shops
· Cheapest eligible product gets 50% off
· Only available to purchase tickets on the app between 00:00 and 23:59 on Sunday 22nd September 2019. Full T&Cs at: https://www.unilinkbus.co.uk/app-discount-terms
Discount applicable to:
o Southampton Zone adult dayrider (£3.70)
o Southampton Plus Zone adult dayrider (£6.00)
o Bluestar & Unilink Network adult dayrider (£7.70)
o Explorer adult dayrider (£9.00)