Travel by bus to help improve our city's air quality
3 years ago Wed 27th Mar 2019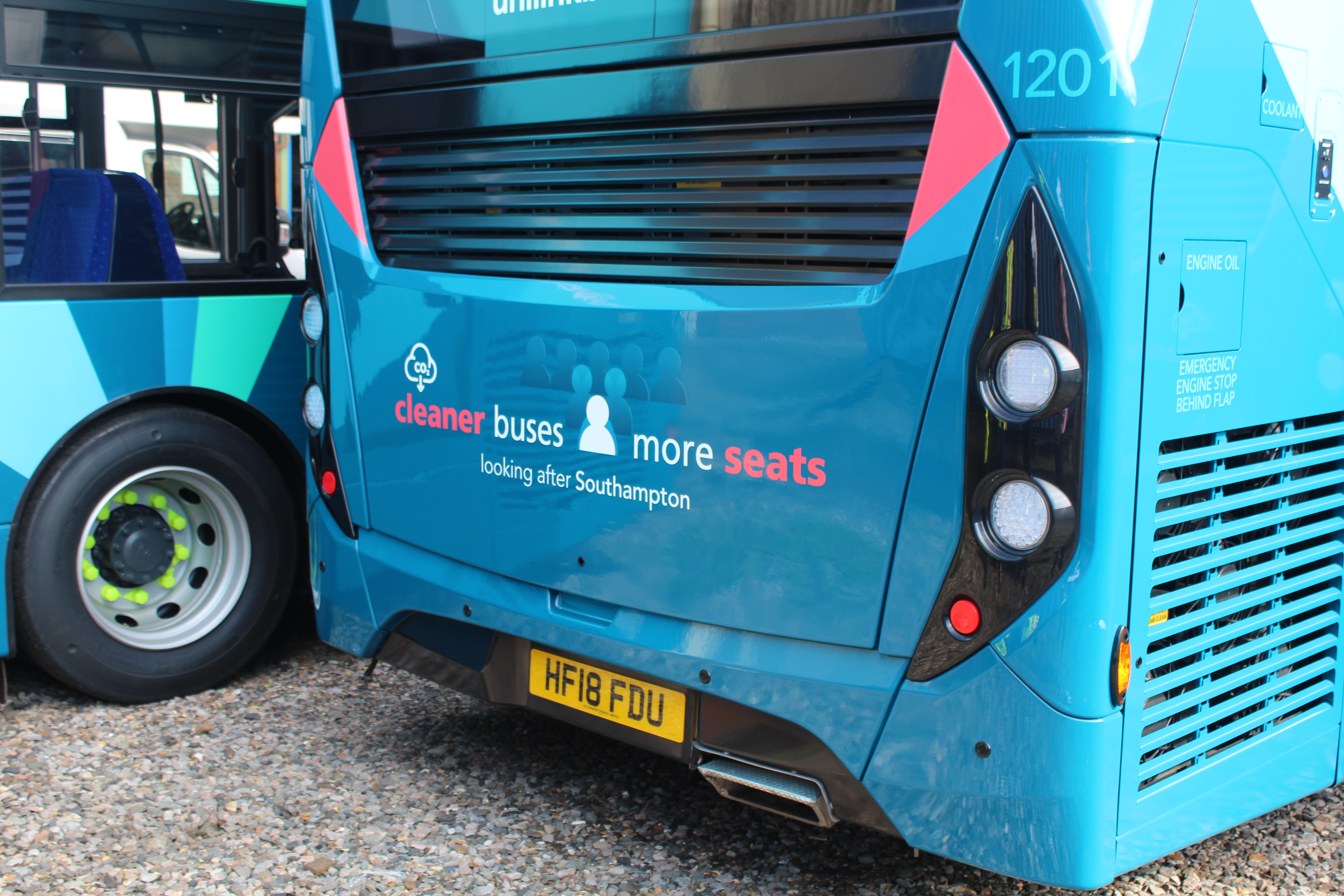 It may not sound like much, but just one of our double decker buses with its Euro 6 engine - carrying upwards of 70 people - gives off far less harmful emissions than a brand new diesel car. And if thousands of people committed to this change it could have a significant impact of the air quality here in Southampton.
Clean Air Facts
A Euro 6 diesel bus emits on average 10 times less NOx per passenger/km than a Euro 6 diesel car

Diesel cars are the biggest contributor to roadside NOx emissions in the UK, contributing 35% of emissions compared with just 16% for buses and coaches

A Euro 6 standard bus emits fewer emissions overall than the average diesel Euro 6 car despite having 15 to 20 times the capacity

Buses are an inherently clean way to travel - a fully loaded double decker bus can take up to 75 cars off the road, reducing congestion and pollution

The latest generation of clean diesel British buses deliver huge environmental and economic benefits and are key to tackling the UK's air pollution crisis

Congestion will bring average traffic speeds in the UK's busiest cities down from 17mph to 12mph by 2030, resulting in higher emissions

Since 2015, the sector has already invested around £700 million in England outside London on over 3,000 new Euro 6 or equivalent buses
Greenhouse gas emissions
A standard 5 door car with 4 passengers in it produces twice as much CO2e / passenger km compared to a fully laden bus.
SMMT average g CO2 /km for cars produced in 2017 : 121 g CO2/km (source). Assuming 4 passengers in the car, each passenger has 30.25 g CO2 /km. The average occupancy of a car in the UK is around 1.6 people per journey, if 2 people were travelling in a car, then their associated CO2/km would be 60.5 g CO2/km.
LowCVP average g CO2e/km for double deck diesel bus at Euro VI in 2017: 1303.9 g CO2 /km. Assuming a passenger capacity of 84, a full bus would result in each km producing 15.52 go CO2/km. A bus that is running at half capacity, has a CO2 impact of 35.2 g CO2/pass km.
NOx
All bus technologies are clean at Euro VI.

Euro VI bus technologies perform as good in terms of NOx than Euro VI diesel cars – NOx target for diesel cars at Euro 6 is 0.08 g NOx/km. Average DD diesel at Euro VI is 0.33 g NOx/km. Could look to include data from DfT testing demonstrating real world performance of diesel cars is much worse than target… (DfT Vehicle Emissions Test Programme for Cars)

Retrofit scheme CVRAS sets NOx target of 0.5 g NOx as Euro VI equivalent level – technologies proven under lab conditions. Again lower than Euro VI diesel car